Today's new release at Big Fish Games is: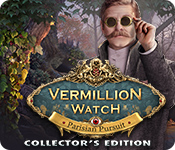 Big Fish Editor's Choice! This title was selected for its exceptional quality and overwhelmingly positive reviews from our Game Club beta testers.
Eipix Entertainment brings you the Vermillion Watch's latest gripping case!
The Sorbonne is opening their "Magic of the World" exhibit. But your excitement is overshadowed when a dangerous thief steals a powerful mystical artifact! As people in Paris start falling prey to an unseen dark influence, it's up to you to find its source and save the city! Can you do it in time, or will you be the criminal's next target? Find out in this exhilarating Hidden-Object Puzzle adventure!
See what our Beta testers had to say:
"Love it!!!! Fantastic game!! Puzzles are great, graphics and design are wonderful and the pace just keeps you moving along! I will definitely buy this one when it comes out, and I have gotten very picky over HOP games. Thanks!! Can't wait!!" – beta tester
"Excellent Game with great visuals. I have played the other vermillion games and I have enjoyed each game. This I rate as the best of the series." – beta tester
Buy Now More Info Try for Free
Did you try this game? Let us know what you thought in a comment below.