I may be giving away my age here, but a long time ago there was a game called House of the Dead that I played in arcades when I was in college, and its sequel that I played on my Sega Dreamcast. I didn't like the whole shooting aspect of it and I was very, very terrible at aiming, but I liked that it could be played cooperatively. It was a rail game, where it would walk you through the scenes and all you had to do was aim and shoot.
A few years later, a spin-off game came out for the PC called Typing of the Dead, and it was essentially the same rail game, but in order to fight through your enemies you had to quickly type words, letters, and phrases. I got so into it — it was way better than shooting, and it had NO AIMING! And I was really good.
Ever since I've always had my eye out for typing games, and as rare and random as they are, I managed to find two for PC — and Mac — at Big Fish Games:
(Remember, each game at Big Fish Games comes with a one-hour free trial; to get started just click the "Try for Free" button below the game you're interested in.)
For the Kids
…and maybe for the kids-at-heart! This game is based on the SpongeBob SquarePants cartoon and also teaches you ocean facts while you type. The gameplay is simple, centered around learning to type, and SpongeBob will help you all along as your typing improves. Your kids are going to love it, and you might too!
SpongeBob SquarePants Typing
Released: March 19, 2012 SpongeBob SquarePants Typing offers boatloads of fun and interesting undersea facts all while you learn to type. Through arcade-style games and keyboarding dri… This game was removed from the Big Fish Games catalog on March 29, 2019.
---
For Adults
Epistory isn't necessarily a "mature for adults" game but it's also not a learn-to-type game like the SpongeBob SquarePants typing game is.
All of that typing goodness that I loved about Typing of the Dead — and more — can be found in Epistory: Typing Chronicles. First of all: the game is beautiful. The world is origami, and you play a writer lacking inspiration. You ride a fox, battle corrupted insects, solve puzzles, and find your muse…all by typing. This game uses typing as your main fighting skill — so different! — and it's just a lot of fun.
The storyline is compelling and its visual style is gorgeous. It's definitely worth a look, and if you're like me, you'll want to play it long past the end of your trial!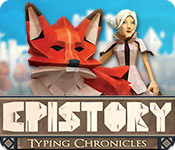 Released: October 4, 2016
Epistory immerses you in an atmospheric action/adventure game where you play a girl riding a giant fox who fights an insectile corruption from an origami world….
Buy Now
More Info
Try for Free
---
Big Fish Games only has two typing games in its catalog, but have you played any games at Big Fish Games that are educational or unique like either of these? Let us know in a comment below.