Today's new release at Big Fish Games is: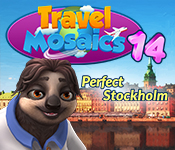 The Walkers invite you to take a walk along the narrow-paved streets of Stockholm and enjoy the views of its picturesque canals and restrained architecture. Learn interesting facts about the most fascinating landmarks of the capital of Sweden while completing challenging puzzles!
Where in Stockholm can you see the statue only 5'9" in height? What is "lagom?" Why is the Stockholm metro a landmark, too? Where is the festive banquet and ball for the Nobel Prize winners held? Learn this and much more as you play!
The game includes 140 "nonogram" puzzles (also known as Picross or Griddlers). However, compared to the classic nonograms, the "Travel Mosaics" puzzles are color-coded. Each puzzle contains a hidden semi-abstract image that can be revealed through your logic alone!
"Travel Mosaics" is an amazing brain-jogging edutainment game for all ages! Start your journey to Stockholm with the Walkers right now!
Buy Now More Info Try for Free
Did you try this game? Leave your review for other casual game fans in a comment below.