Today's new release at Big Fish Games is: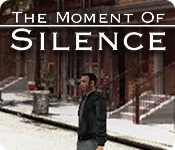 Classic point-and-click espionage game, The Moment of Silence is now on Big Fish Games! Set in 2044 New York City, play the role of Peter Wright, an advertising executive currently heading up the Government's 'Freedom of Speech' campaign. When a heavily armed SWAT team storms his neighbor's apartment, Peter must uncover the truth behind his mysterious disappearance as he becomes drawn into the deceptive worlds of corruption and power. This fascinating vision of the near future includes 75 locations designed by an award-winning CG artists, more than 500 interactive screens, and 30 minutes of full screen video lip synchronization using phonetic voice analysis motion captured animation.
Buy Now More Info Try for Free
Did you try this game? Leave your review for other casual game fans in a comment below.