Today's new release at Big Fish Games is: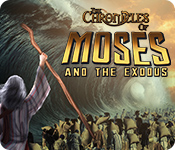 Enjoy the classic story of Moses and his quest to lead his people to freedom in The Chronicles of Moses and the Exodus. When Moses flees Egypt after turning against the Pharaoh, he has no idea what plans God has in store for him…
Living the life of a shepherd, far from the life he once knew in Egypt, Moses thinks those days are long behind him. Then God sets before him a seemingly impossible task: return to Egypt, free the Israelites from slavery, and lead them safely to the Promised Land!
How can one man stand against Pharaoh? How can he free the slaves and bring them to a new home? Moses will need great faith, trust, and determination if he is to succeed.
Buy Now More Info Try for Free
Did you try this game? Leave your review for other casual game fans in a comment below.