Today's new release at Big Fish Games is: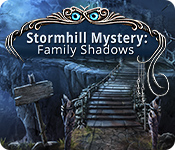 One of father's stories was my favorite:
Once upon a time there lived a merchant and his wife. They lived happy lives and had never known grief. However, their maid, Julianne, grew jealous of their happiness and secretly dreamed of taking the wife's place. Julianne learned of unholy powers hidden deep within the manor that could be summoned by ritual, although, there was a cost. She used these powers to curse the merchant's wife, banishing her to another world and unleash deadly powers into this world. Upon learning what transpired, the merchant vowed to find a way to release his beloved wife from her cursed world.
Years have passed. My father died, but he left me a message:
Your favorite fairy tale was the true story of our family. I tried to free your mother's spirit, but I failed. I beg you to finish what I could not. The solution is waiting in our old family home.
As a son, I must write a happy ending for my family's story.
Stormhill Mystery: Family Shadows is a fantastic casual puzzle adventure game that follows a family's tragic story and paranormal twist!
Buy Now More Info Try for Free
Did you try this game? Let us know what you thought in a comment below.