Today's new release at Big Fish Games is: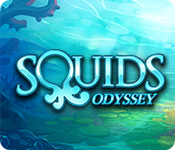 See why 3 million players are loving Squids Odyssey!
Dive into the ocean depths for some epic turn-based battles! Just build your team of Squid heroes, utilizing different classes and abilities, and face-off against a band of corrupted crabs and shrimps!
Steev and the rest of the Squids are in danger! An infectious ooze is corrupting their world, and this band of unlikely heroes needs to fight back to save their kingdom!
Squids Odyssey is not just about gorgeous cartoon art, jaunty music and humorous storytelling: the battles provide a deep challenge as strategy and skill are required to use the environment and the Squids' strengths to lead your team to victory!
No Squids were harmed during the making of this game.
Buy Now More Info Try for Free
Did you try this game? Leave your review for other casual game fans in a comment below.