Today's new release at Big Fish Games is: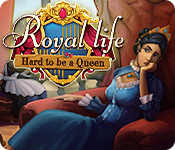 How can a lady prove her skill in statecraft and get the better of her overween cousin? Easily! All she needs is a suitcase of her best dresses, a box of her most charming smiles, the best adviser beside her and a chest of high-quality instruments. All these will help her not only to restore the devastated kingdom but to make it even more flourishing and inviting for tourists and new citizens. Start this madcap quest with Princess and her Lady-in-waiting and unleash your full talents in kingdom management through 45 unique levels!
Buy Now More Info Try for Free
Did you try this game? Let us know what you thought in a comment below.