Today's new release at Big Fish Games is: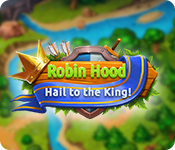 Alawar Entertainment presents another bold adventure with the world's most dashing rogue in Robin Hood: Hail to the King!
Join Robin Hood and his band of merry companions on a thrilling quest to stop the dastardly Sheriff of Nottingham and return King Richard to the throne! The scheming sheriff has kidnapped the king's soldiers and imprisoned them throughout the realm as part of a larger plot against the benevolent ruler. Only you can help them conquer the strategic challenges on dozens of levels and race against the clock to find out what the nefarious ne're-do-well is really up to. Fortunately, Robin has a few extra arrows in his quiver. You're still able to choose which heroes will tackle each level in order to use each character's unique abilities to overcome specifically designed obstacles. And earn huge rewards in all-new Heist maps by using clever tactics to spring traps and deal with the sheriff's guards so you can grab the gold!
Don't miss your chance to guide the legendary Robin Hood through this comical campaign to the hilarious bonus chapter, as he steals from the rich, gives to the poor, and saves Nottingham from its tenacious villain!
Buy Now More Info Try for Free
Did you try this game? Leave your review for other casual game fans in a comment below.