The Road Trip games are old-school hidden object games developed by Max the Cat Studios. This is a list of Road Trip series games in order by release date: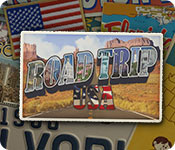 (4.2 / 5)
Released: April 3, 2018
Take a road trip across the beautiful landscape of the United States of America in this relaxing classic hidden object game. Challenge yourself with fun puzzle …
Buy Now
More Info
Try for Free
---
What's next? Road Trip Europe is scheduled for release in late February or early March 2019.
Are you looking for more?
Check out our pages of Casual Games Series Lists and Upcoming Games & Sales.