There are at least two types of Hidden Object game fans in this world: those who like the Hidden Object Puzzle Adventure games with puzzles and inventory and rich, compelling stories mixed in with their hidden object scenes… and then there are those who don't. If the latter is you (like me), you'll want to take a look at Secret Investigations: Revelation.
This old-school hidden object game is the third game in the Secret Investigations series. It isn't dark, doesn't have puzzles, and you won't be carrying around an inventory of items to use on other items you might run across in exposition scenes. It does, however, offer a solid hidden object game experience with over 900 hidden object scenes, a handful of achievements to earn, more than 10 hours of gameplay, and 10 cases that start off easy enough but ramp up to become challenging.
Here are a couple of tips for Secret Investigations: Revelation:
The objects you are asked to find are not always the same color, size, or orientation as the ones in the picture you are given to find. That said, they are always the same shape, so if you look for the shape as opposed to the color or size or the object facing the same direction you will be able to find them easier.
Each scene has one item you have to combine with something else in the scene to create another item you need to find. For example, two items you will be asked to find are a slice of pizza and a pizza cutter. Upon finding the pizza cutter it goes into a special inventory slot. The scene does not contain a slice of pizza, but it does contain a whole pizza. Dragging the pizza cutter to the whole pizza will then produce a slice, which you then can click on.
Each case starts off easy. You'll be cruising along earning three stars fairly easily… until you don't. The hidden object scenes begin to contain more items that are hidden especially well. If you get stuck, don't be afraid to use the power-ups. Not only will you get credit towards the in-game achievements, you will also earn more as you continue through the scenes.
The good: old-school hidden object game, fun combination item in each scene

The bad: storyline is just so-so and sometimes not grammatically correct, only 18 achievements that you have to go out of your way to earn

The ugly: if you take too long to find an object, a window pops up — obscuring the whole scene — to remind you that you can use a power-up

TL;DR: give Secret Investigations: Revelation a try, especially if you're a fan of old-school hidden object games (not dark, not HOPA). Luckily you can get a one-hour free trial from Big Fish Games by clicking the Try for Free button below.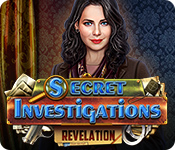 (2.6 / 5)
Released: January 31, 2019
Julia is an author who writes a collection of crime novels and needs your assistance with an exciting investigation, full of danger, mysteries and surprise! Ar…
Buy Now
More Info
Try for Free
---
Have you played this game? Share your thoughts in a comment below.