Today's new release at Big Fish Games is: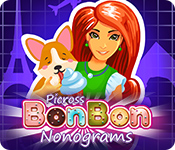 It's time to unwind with the sweetest adventure you've ever been on! Judith, the charming owner of a small sweets van, and her loyal assistant Toby are planning a round-the-world journey! No challenge is too great for these two. They'll drive their van up the tallest mountains, into the deepest canyons, cross oceans and see the most wonderful treats the world has to offer! But they can't do it without you! So if you haven't packed your backpack yet, hurry up! The sweet van won't wait!
Picross BonBon Nonograms is an exciting and intellectual challenge for fans of griddlers, puzzles, sweets and globe-spanning adventures! Level after level, watch as your completed griddlers come alive and shine with bright colors!
Buy Now More Info Try for Free
Did you try this game? Let us know what you thought in a comment below.