Today's new release at Big Fish Games is: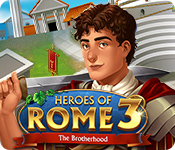 Servius and his brave warriors have narrowly held back a Gorgon attack, and now it's up to you to help rebuild Rome. But you quickly discover that, despite the Gorgon's defeat, townspeople are still being turned to stone. Then strange banners bearing the symbol of the dreaded Brotherhood of the Snake begin to appear, and it quickly becomes clear that there's something more going on. You'll need to be at the top of your time management game to help Rome get to the bottom of this sinister, serpentine plot!
Buy Now More Info Try for Free
Did you try this game? Leave your review for other casual game fans in a comment below.