Today's new release at Big Fish Games is: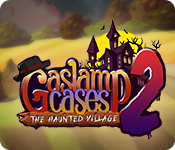 After saving London from a deadly threat, all Morgan Johnson wants now is a few days of vacation to relax and spend some time alone. With this in mind, he and his partner Jack Brown set out for an isolated village where no one will know their names—the perfect getaway, or so it seems.
But when Jack goes missing on the village outskirts and Morgan begins searching for him, he soon learns there's a lot more to this village than meets the eye… Crop failures, rumors of a witch, and whispers that a terrifying legend is about to be fulfilled stand in Morgan's way, and all he can do now is search for answers. Is there truly a witch cursing this small village? Or is something even more sinister about to unfold in this match-3 mystery?
Buy Now More Info Try for Free
Did you try this game? Leave your review for other casual game fans in a comment below.