Today's new release at Big Fish Games is: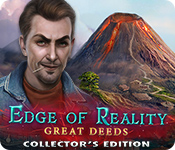 Big Fish Editor's Choice! This title was selected for its exceptional quality and overwhelmingly positive reviews from our Game Club beta testers.
4 Friends Games proudly brings you the latest addition to the Edge of Reality series!
After opening a new animal shelter, your daughter's been nominated for the Person of the Year award! You're excited to join her in Iceland to celebrate. But your joy is cut short when you find her missing! With a local volcano threatening to erupt and rumors of a dangerous legend come to life, can you find out who's behind your daughter's disappearance and rescue the city's pets in time? Find out in this exhilarating Hidden-Object Puzzle adventure!
See what our Beta testers had to say:
"I loved this game. It had an original story line. I thought the scenes were immersive and beautiful. The voice-overs were perfect. I was sad when the Beta ended, which is the mark of a great game." – beta tester
"I really enjoyed this game. I am an animal lover so I got hooked right away. The clues and puzzles are fun and easy to follow. The hops are clear, and the pieces aren't so small you can't find them. I am looking forward to buying this game. I am going to go back and find the other games in this sequel." – beta tester
Buy Now More Info Try for Free