Growing Grass Studio brings you the latest installment of the Elven Legend series. Today only, you can get up to 12 additional various developers' standard version games for $2.99 each when you also purchase the Elven Legend 7: The New Generation Collector's Edition. Just add the CE to your cart along with up to 12 bundle sale games below and then use the coupon code ELVEN at checkout to receive the bundle sale games for $2.99 each. Offer expires March 4, 2019 at 11:59pm Pacific.
Bundle Sale Games
Redemption Cemetery: The Cursed Mark
Labyrinths of the World: Lost Island
Dreadful Tales: The Space Between
PuppetShow: Porcelain Smile
Haunted Hotel: Beyond the Page
Reflections of Life: Slipping Hope
Memoirs of Murder: Resorting to Revenge
Secrets of Great Queens: Regicide
The Christmas Spirit: Mother Goose's Untold Tales
Christmas Stories: Alice's Adventures
Spirits of Mystery: Whisper of the Past
The Unseen Fears: Last Dance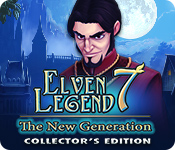 Released: March 3, 2019
In the latest Elven Legend game, you will enter a fantasy world, where a young elven princess and her fawn friend oppose an evil that threatens to consume the K…
Buy Now
More Info
Try for Free
---
Try Elven Legend 7: The New Generation Collector's Edition for free with a 90-minute free trial at Big Fish Games!