Today's new release at Big Fish Games is: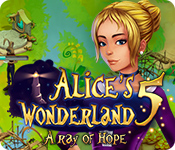 Big City Lab takes us on another exciting adventure down the rabbit hole with their latest Time Management Adventure! This time, Wonderland will have to come together to stave off unimaginable darkness!
Some villains are just more patient than others. That, or they are just more cowardly and will avoid attacking until their victory is assured. Jack of Clubs has been waiting for this opportunity for years, and now it's here.
During the upcoming eclipse, when Wonderland is enveloped in total darkness, Jack of Clubs plans to order his army of ink monsters to advance, and there's not much you can do against an astronomical phenomenon of this scale!
Alice and her friends will have to find a solution as soon as possible. This time, all of Wonderland will come to their aid, and the wise Queens will oversee defenses from day one. Best of luck, and never give up!
Buy Now More Info Try for Free
Did you try this game? Leave your review for other casual game fans in a comment below.