Today's new release at Big Fish Games is: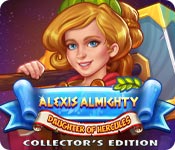 Chronos, the merciless God of time, plans a devastating attack on Greece but he knows that he cannot put his cruel plan in action with Hercules in his way! In an attempt to get rid of his adversary, Chronos casts a powerful spell on Hercules, aging the immortal hero, taking away his might and vigor. Hercules, deprived of his divine strength, takes the last leap of faith and throws his magic hammer through the time portal… Any hero who finds it will inherit all of Hercules' power and will have the ability to defeat Chronos!
Follow Alexis, the teenage daughter of Hercules himself, as she takes up her father's hammer and becomes the mighty warrior she always dreamt she'd become. Help Alexis recruit allies, build forces and prepare for the battle of the century. There is no time to lose: the clock is ticking!
Buy Now More Info Try for Free
Did you try this game? Leave your review for other casual game fans in a comment below.